Wednesday, December 03, 2014
My Reading at World Fantasy Con 2014
Here I am reading a chapter from Elysium at WFC in DC. I had just gotten off the train so I was a bit tired. Also I sing!
Friday, October 17, 2014
Upcoming Stuff
My story "The Executioner" was accepted into the anthology UNCONVENTIONAL FANTASY: A Celebration of Forty Years of the World Fantasy Convention
Nov 3rd: I will be interviewed by the Adventures in Science Fiction Publishing podcast. UPDATE: Here is a link to the episode!
Nov 6th: I will be reading from my novel at the World Fantasy Convention in Washington, DC, 5:30pm - 6pm UPDATE: My agent video recorded the reading. (and I even sing!)
Dec 3rd: I will be interviewed on Hour of the Wolf w/ Jim Freund on WBAI. I've been on the show before. This time it will be just me being interviewed and possibly reading a bit from my novel Elysium.
Feb 3rd: I will be reading at the NYRSF Reading Series.
Saturday, October 11, 2014
Interview on Dive into Worldbuilding! with Juliette Wade
A perfectly lovely interview with Juliette Wade on her Google Hangout show Dive into Worldbuilding! about my novel Elysium. She asks such astute questions which is amazing since she only received my book the night before the interview! A summary of our conversation can be found here.
UPDATE: I found a link to the news article on the guy walking his alligator in Central Park and also the baby black bear that was found there the other day.
Friday, May 30, 2014
My Reading at Wiscon 38
The lighting makes my face a little hard to see but that's me!
Tuesday, May 27, 2014
My Afrofuturism Panel Introduction at Wiscon 38
Afrofuturism combines elements of science fiction, historical fiction, speculative fiction, fantasy, Afrocentricity, and magical realism with non-Western beliefs where (arguably) the origins of the movement are Sun Ra, George Clinton, Samuel Delany, and Octavia E. Butler. Afrofuturism has been expressed through an amalgamation of many fields such as film, visual art, music, literature, and activism. Along with its cousin Afropunk, new doors of cultural thought has been opened in the last few years with the creative works from such as the Kenyan artist Wangechi Mutu, the publication of anthologies such as Dark Matter: A Century of Speculative Fiction from the African Diaspora and Mothership: Tales from Afrofuturism and Beyond, the release of films such as Pumzi, Afronauts, and the FutureStates films White and Crossover, and the grassroots activism of Adrienne Maree Brown in Detroit who is "convinced that speculative fiction is one way to envision futures that generate individual and community transformation." Art curator and Afrofuturist, Ingrid LaFleur has defined Afrofuturism as "an imagining of possible futures through a black cultural lens… a way to encourage experimentation, [to] reimagine identities, and [to] activate liberation."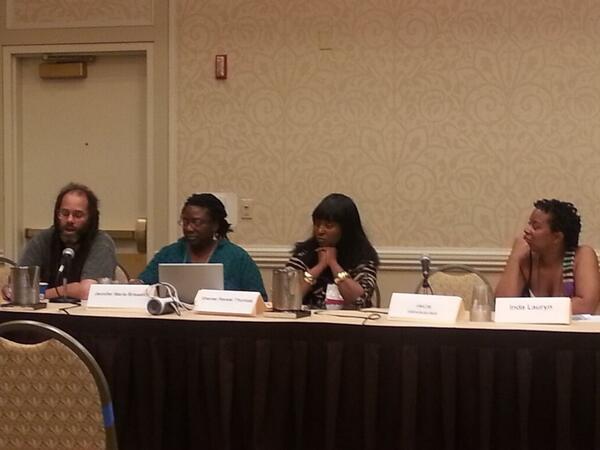 Panelists: Ian K. Hagemann, Myself (as moderator), Sheree Renée Thomas, and Inda Lauryn,